November 18, 2022
New visuals, improved My Work, compact metadata, and Vanta integration
New visuals
The list view (accessible the list view by pressing alt/option+v or via the dropdown in the down right corner of the board) has a clean new look with the different statuses clearly separated. Additionally, the rendering of metadata (e.g. labels, impact/effort, dependencies) has been changed to make things a bit tidier.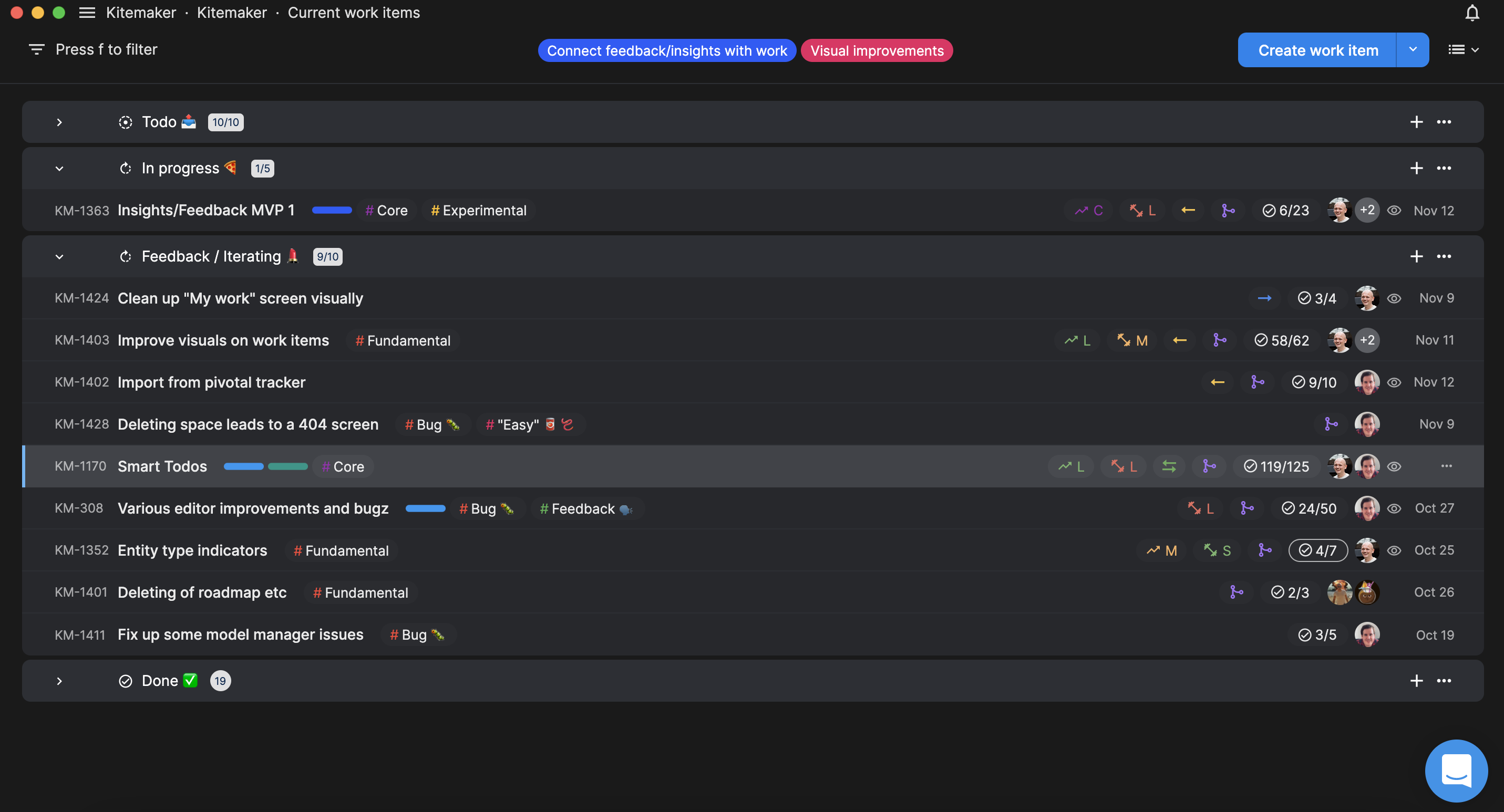 Big thanks to all the teams that gave us feedback and helped us iterate on the new designs ❤️
Improved My Work
The My Work screen (accessible by pressing = or by clicking "My work" in the sidebar) has gotten a number of improvements including separating work items and themes into different sections, and showing todos that you are a member of inline with the work items themselves.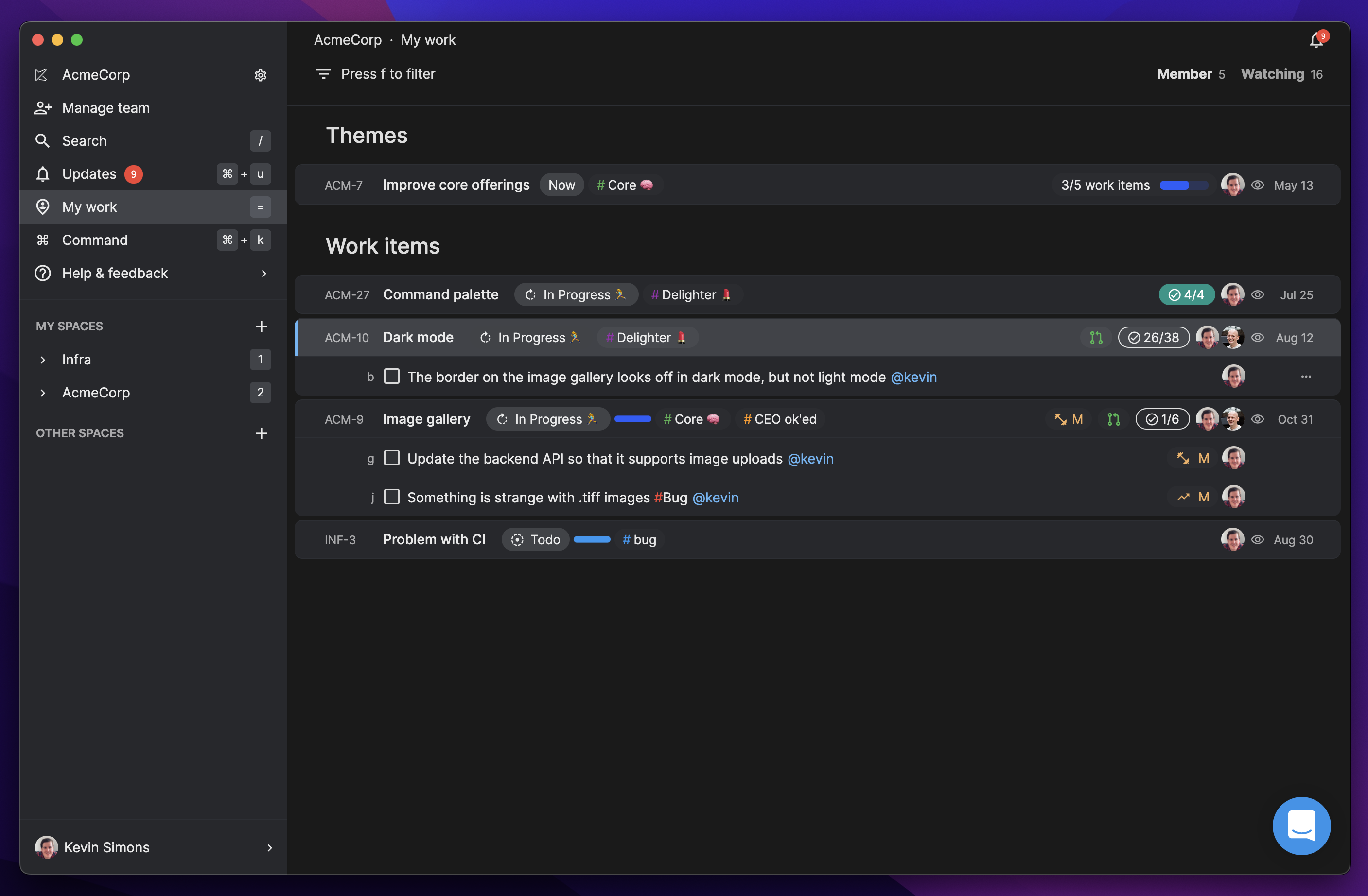 Compact metadata
By pressing the ; key or by choosing "Compact metadata" from the profile menu, you will get a more concise view of metadata such as labels, impact and effort. You can hover over the compact elements to get a more detailed view.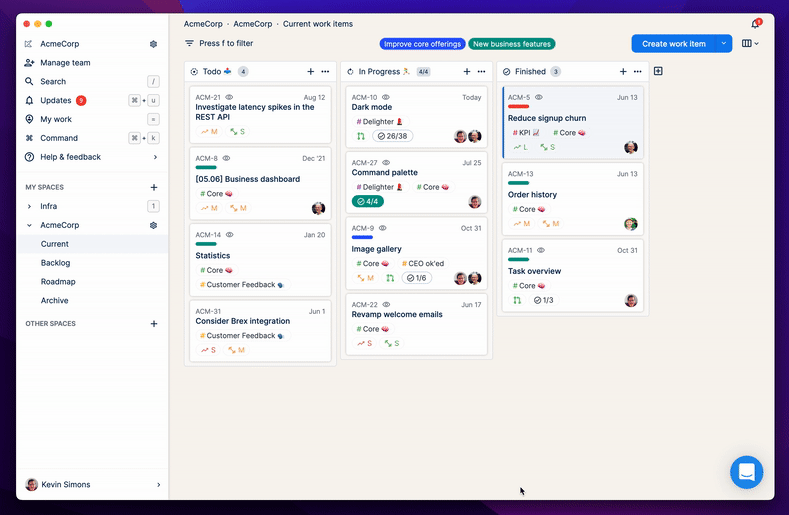 Vanta integration
Kitemaker now has a Vanta integration that allows security-related tasks to be automatically synced to Vanta, helping teams achieve their SOC2 compliance. To set up the integration, search for "manage integrations" in the Kitemaker Command or click the ⚙️ menu next to the name of your organization in the sidebar.
Once the integration has been installed, simply apply a label containing "vanta" to a work item in Kitemaker to cause it to be pushed to Vanta. In Vanta, a set of rules will be applied to the security issue to ensure compliance. Information about Kitemaker users will also be automatically synced to Vanta.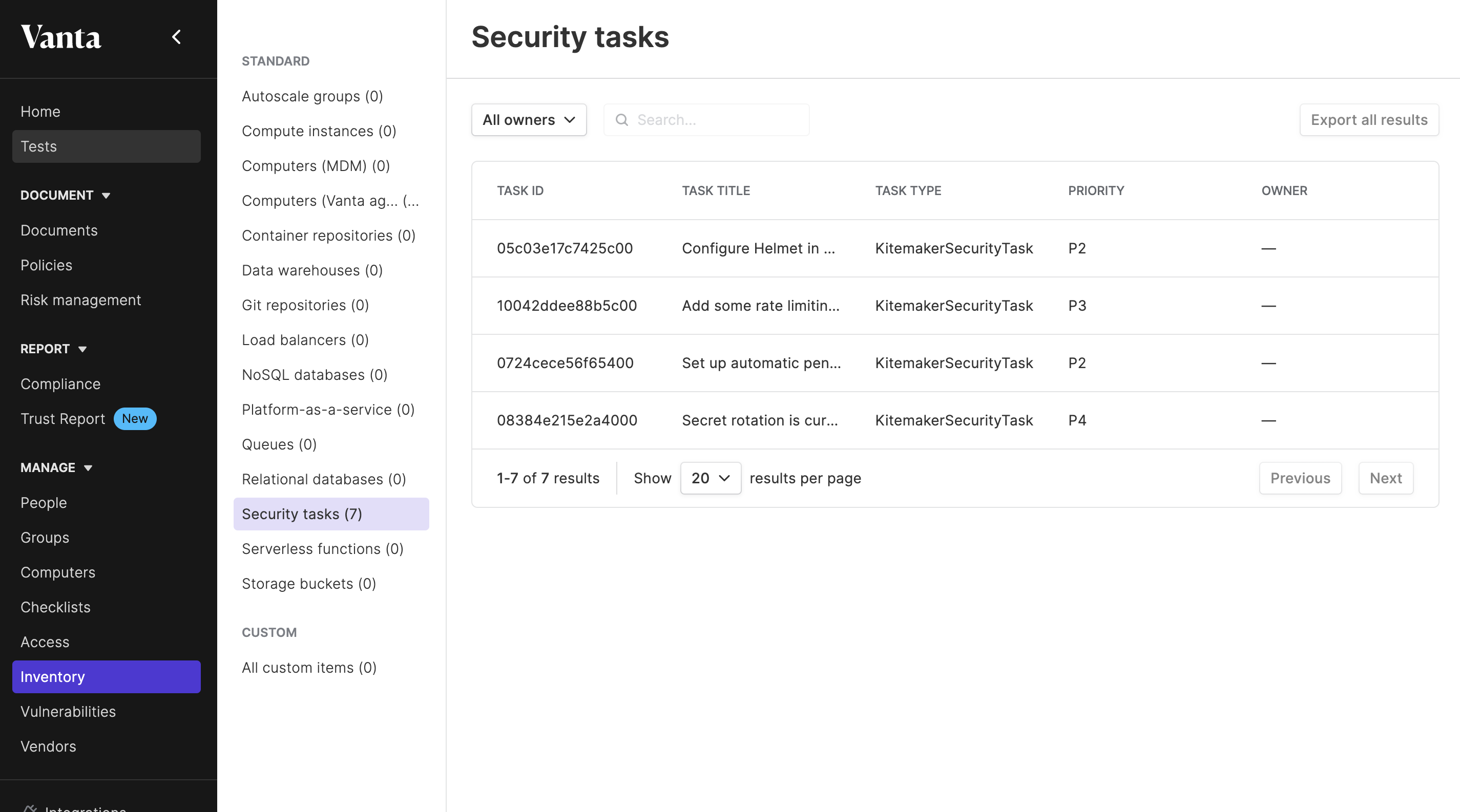 Beta features
Here are some of the upcoming features we're currently iterating on which are not generally available to all users yet.
If you're interested in trying out one of these features, send us a mail at hi@kitemaker.co or ping us on our community Slack!
We're adding a place in Kitemaker where you can collect feedback from your users and link it to work items and themes.
We're experimenting with adding a data warehouse syncing function to Kitemaker to enable teams to query their Kitemaker data right from the comfort of their own data warehouse.
Contacting us
We're always happy to hear any feedback you have. To reach us, you can:
Other
The smaller fixes and improvements this time around include:
Kitemaker now shows an icon on work items that were created by integrations such as Slack, Discord or Zapier
When adding a dependency to a work item, it's now possible to create an entirely new work item on the fly
Fixed a bug where it was possible to accidentally deactivate yourself when managing your team
Fixed a bug where Kitemaker would sometimes put a theme in the wrong column when it was unarchived
You no longer need to include /items or /themes in URLs. Very handy for GitHub autolinks
Fixed a bug where the refresh button was missing from Figma embeds in comments