October 5, 2023
Better status column management
Better status column management
You asked for it, and we listened 😁 Now you can once again move columns on the board by dragging and dropping, rather than needing to go to your space's workflow settings.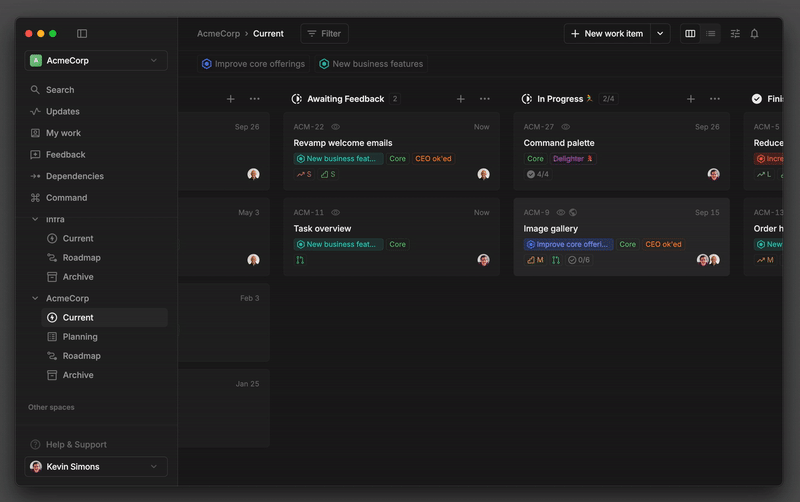 You can also make new status columns and edit existing ones by clicking on them, all without leaving the board.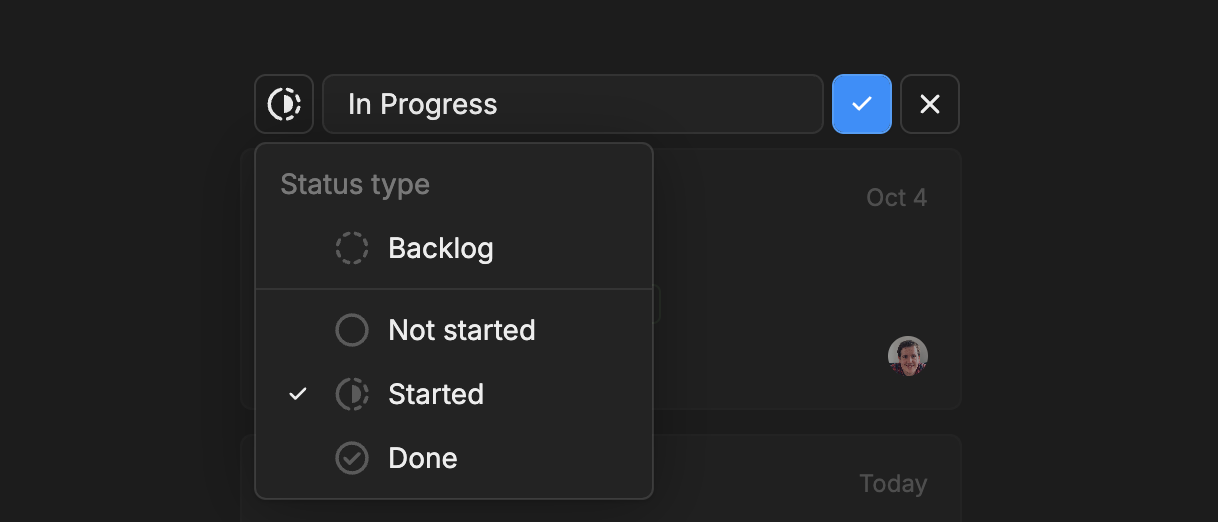 Beta features
Public boards
Do you want to share your boards publicly or with users who don't have access to Kitemaker? We currently have a public board feature in beta. It opens up boards and anyone can view the board through a special link. You can also toggle to share metadata and decide if all work items (including the ones that are not publicly shared) should be visible on the board.
Inline comments
Discussions in the activity feed are great, but sometimes you want to comment on specific text in a work item or theme. We're making that possible with our new inline comment feature.

If you're interested in trying these out, send us an email at hi@kitemaker.co or ping us on our community Slack!
Contacting us
We're always happy to hear any feedback you have. To reach us, you can:
Other
Improved the welcome board that new teams see when signing up for Kitemaker
Improved the UI for the screen that shows when Kitemaker is configured to automatically open links in the desktop app
Dragging and dropping of lists (bullets, todos, numbered lists) now automatically brings nested children along with it
Fixed some unwanted padding on the popover that shows when hovering the todo counts on the board
Fixed a bug where authenticating with Figma inside of the desktop application didn't work properly
Fixed a bug where deployments didn't show up in PRs linked to work items
Make it easier to make an empty line at the end of a description simply by pressing down
Added tooltips to the buttons in the "Create work item/theme" modal
Fixed a bug where you had to press escape twice to close the "Create work item/theme" modal
Fixed some spacing around mentions of work items and themes in the editor
Fixed a bug where setting the work-in-progress limit for a column would show a validation error before the user had a chance to type anything
Made it so that titles are saved on the work item and theme screens, even if enter isn't pressed (e.g. if the back button is pressed instead)
Kitemaker now automatically adjusts custom colors for better contrast/readability
Fixed up the Kitemaker Command onboarding for non-macOS users
Fixed some grammar errors on the feedback screen
Fixed a bug where some emojis (e.g. ❤️) wouldn't render properly in Chrome
Fixed a bug where list view on mobile would continuously scroll to the top
Made it possible to click the toast that appears whenever you make a new work item or theme
Fixed a bug with adding owners to feedback
Fixed a bug with capturing insights in feedback
Fixed a bug where todos couldn't be marked in progress on the My Work screen
Fixed a possible crash when duplicating work items
Fixed a bug where the "Move all" option in the … menu for a column didn't respect current filters
Fixed a bug with adding a space's first snippet from a description didn't work
Fixed a bug where the popover showing a work item's dependencies would inadvertently close
Improved the search functionality in the "Add to…" Slack shortcut
Improve the search results of /giphy blocks
Improve the automatic scrolling of work item descriptions when dragging/dropping blocks
Improved the placement of the formatting hover that appears when selecting text in the editor
Removed the FirstPromoter affiliate program